Two 95 year old men baseball fans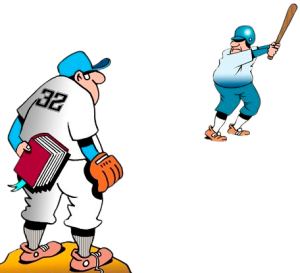 Two 95 year old men, Jack and Sam, are huge baseball fans.
One day, Jack falls seriously ill, and doesn't have long to live.
Sam visits him in the hospital to say goodbye. Sam asks him a favor before he passes.
"Hey Jack, when you get to heaven, can you see if there is baseball there? If there is, tell me."
"I can certainly try, for my best friend."
Later that Wednesday night, Jack passed away.
Thursday night, Sam is asleep in bed, when all of the sudden Jacks spirit appears in front of him.
"AHHHH! Who are you?"
"Calm down, calm down. It's me Jack."
"Good hell, you scared me half to death."
"It's OK, but I've come with good news and bad news."
"Well, what's the good news then?" pondered Sam.
"There is baseball in heaven."
"Thank goodness," said Sam, feeling wonderful, "but what's the bad news?"
"You're pitching Tuesday."