The Devil invites Mike Tyson to hell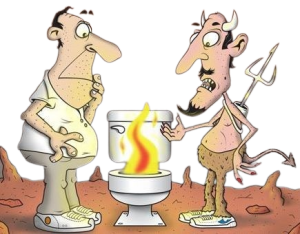 The Devil invites Mike Tyson to hell one day to enjoy himself.
He had guests over and he thought they'd like reveling over a background where a person goes around knocking over the residents of hell down.
They apparently did not seem to enjoy themselves over it.
He told the residents that he'll let them off easy in the next few days if they were eager to get knocked down.
The guests then seemed to have a great time.
There was one guest who seemed particularly not pleasant with the arrangement.
The Devil asked the particular guest, how he finds the arrangements.
The guest says, "I don't get it". The Devil says,
I've already made the punchline bold, do you also want me to underline it?"